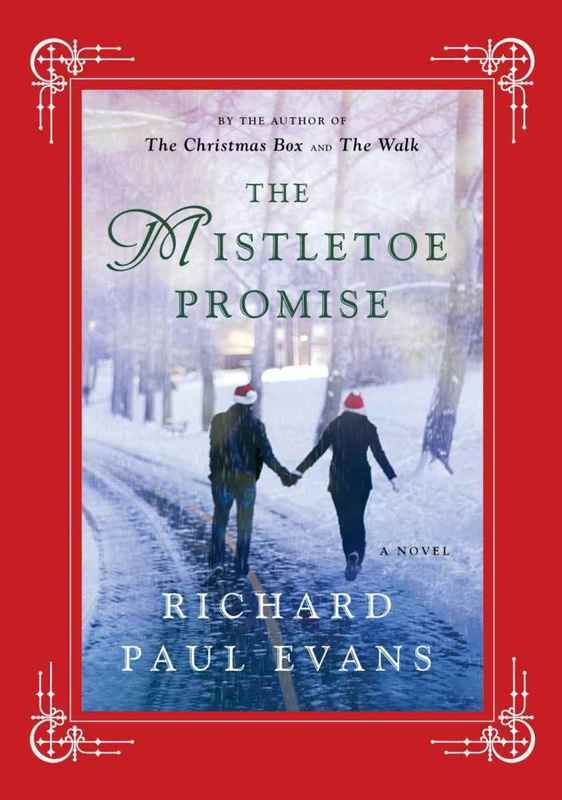 The Mistletoe Promise
Richard Paul Evans
Simon and Schuster
2014
✯✯✯✯✯
Official Synopsis
Elise Dutton dreads the arrival of another holiday season. Three years earlier, her husband cheated on her with her best friend, resulting in a bitter divorce that left her alone, broken, and distrustful.

Then, one November day, a stranger approaches Elise in the mall food court. Though she recognizes the man from her building, Elise has never formally met him. Tired of spending the holidays alone, the man offers her a proposition. For the next eight weeks—until the evening of December 24—he suggests that they pretend to be a couple. He draws up a contract with four rules:

1. No deep, probing personal questions
2. No drama
3. No telling anyone the truth about the relationship
4. The contract is void on Christmas Day

The lonely Elise surprises herself by agreeing to the idea. As the charade progresses, the safety of her fake relationship begins to mend her badly broken heart. But just as she begins to find joy again, her long-held secret threatens to unravel the emerging relationship. But she might not be the only one with secrets.
I barely read 4 sentences of the synopsis before I knew that I would love this book, providing of course that there wasn't a lot of sexual content (which there isn't, can I get a witness!) Okay, so yes, the sufficient and pleasing lack of sexual content makes me very happy, so happy that I figured I might as well mention it at the beginning of my thoughts rather than at the end.
Oh my, how I love The Mistletoe Promise! I know that a lot of stories have been written around this concept, movies where a guy hires a girlfriend to accompany him to a wedding or vice versa, and it always sinks into depravity. Not so with this novel. My knowledge of Richard Paul Evans began and ended with The Christmas Box movie that I both loved and hated because it was such an emotional roller-coaster ride.
In keeping with tradition, this novel is also a roller-coaster ride. Both Elise and Nicholas have committed serious mistakes in their lives, enough to keep them running from serious relationships. At least until they meet each other. The novel is entirely written from Elise's perspective, but you also get to know her through Nicholas' eyes, and he sees someone beautiful, charming, worth caring for and treating well, things she has never experienced from anyone before.
Literally, this book is a fairy tale come true for a lot of women readers. Alright, yes, the idea of a contractual relationship with a start and end point is strange. But Nicholas takes such impeccable care of Elise. He's a lawyer (WEALTHY) so he sends her expensive gifts every day, takes her to dinner and to the theater on his dime, flies her to New York with him so she can see the sights at Christmastime, and he constantly reminds her that she is someone of value and of worth, not just to him, but to others, and she needs to start acting like it. He asks her for nothing in return, just her platonic company because he respects her, even when their attraction starts growing. WOW! What a guy!
As for Elise, poor thing, she's a bit traumatized, which just made me sympathize with her plight. Bad parents, bad marriage, bad mistakes, and she's left lonely and afraid to trust anyone with her heart. Yeah, I can see why she would think Nicholas was too good to be true, and then fall in love with him. I fell in love with at about the same point as Elise.
I literally read this book in just a few hours because I could not put it down. It captures the Christmas spirit, and also captures the sense of isolation a lot of people can and do feel around the holidays. I'm fortunate. I have my parents and my sister and some friends. I'm not alone, and so I love Christmas. But if you were alone, the holiday would be hard. Richard Paul Evans captured that reality very vividly.
The Mistletoe Promise is an inspiration and I am going to add it to my personal collection because I intend to read it every year.
Click the above button for a link to the official page of links for this Christmas Fiction Extravaganza!